The Ultimate™ CM Family
53 - 92 QV
Double QV Valid 10/26/16 only
In Stock.
Ships in 1-2 days.
Sale Over. Stay tuned for the next deal.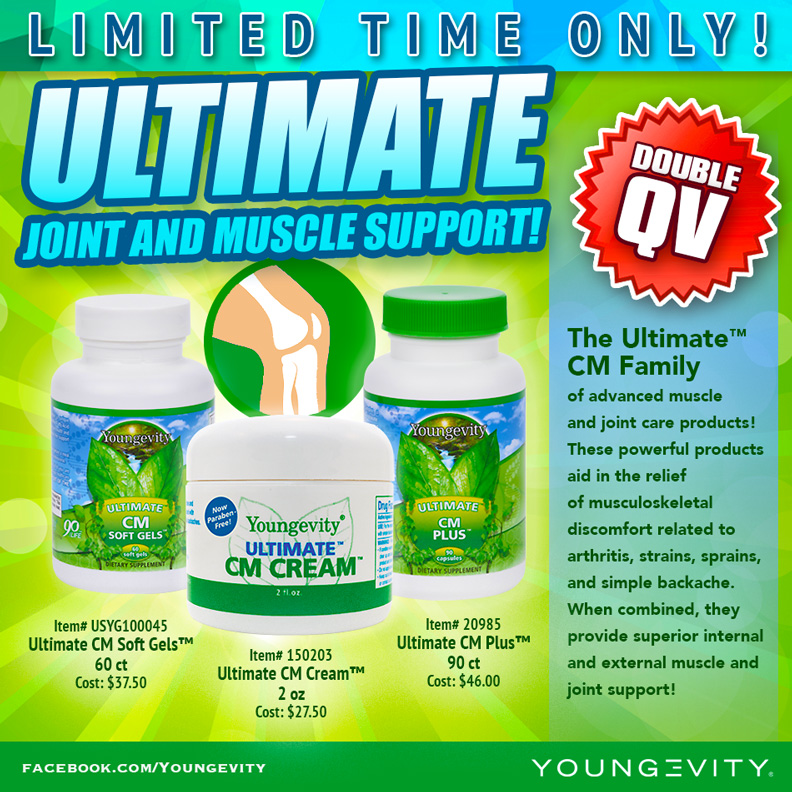 The Ultimate™ CM Family
The Ultimate™ CM Family :
Ultimate CM soft gels™ - 60 soft gels (USYG100045):
Many adults experience bone and joint discomfort that may cause severe long-term pain and lead to physical disabilities. Ultimate CM Soft Gels™ contain a unique proprietary blend of Cetylated Fatty Acids (Esterified Fatty Acid Carbons) which have been known to stimulate joint health and comfort increasing the support provided to ones joints. (60 ct)
Ultimate CM Plus™ - 90 capsules (20985):
Joint health is a cause for concern for as many as 1 in 5 adults. Ultimate CM Plus™ is formulated to support healthy joints and features CM Complex (U.S. Patent #5 569 676), a clinically proven, breakthrough compound that includes cetyl myristoleate, an all-natural compound that may mediate certain substances associated with minor pain. For best results, use Ultimate CM Plus™ as part of a full nutritional program that includes Ultimate Classic® and Ultimate EFA™.
Ultimate CM Cream™ (Paraben-Free) - 2 oz (150203):
Ultimate CM Cream™ contains a proprietary blend of botanicals, including Celadrin Complex, that helps support the muscular and skeletal system. It aids in the temporary relief of minor aches and pains of muscles and joints associated with arthritis, strains, sprains, and simple backaches. Paraben-Free.
* These statements have not been evaluated by the Food and Drug Administration. This product is not intended to diagnose, treat, cure, or prevent any disease.
The Ultimate™ CM Family :
Ultimate CM soft gels™ Ingredients:
(Esterified fatty acid carbons: myristic, myristoleic, oleic, palmitoleic, palmitic, lauric, decanoic, stearic), Soybean oil, olive oil, gelatin, carob, glycerin, mixed tocopherols.
Ultimate CM Plus™ Ingredients:
Methyl Sulfonylmethane, Cetyl Myristoleate 10%, Gelatin Capsule, Gelatin.
Ultimate CM Cream™ (Paraben-Free) Ingredients:
ACTIVE INGREDIENT: Menthol (1.25%).

Water, Glycerin, Glyceryl Stearate, Peg-100 Stearate, Celardin Complex (1.5% Total) [Cetyl Myristoleate, Cetyl Myristate, Olea europaee (Olive) Fruit Oil, Cetyl Palmitoleate, Cetyl Oleate, Cetyl Laurate], Lecithin, Tocopheryl Acetate, Benzyl Alcohol, Acrylates/C10-30 Alkyl Acrylate Crosspolymer, Phenyoxyethanol, Ethylhexylglycerin, Caprylyl Glycol, Hexylene Glycol, Sodium Hydroxide, Citric Acid, Mentha piperita (Peppermint) Oil.